BADF
An assistance dog is specifically trained to enhance a disabled person's autonomy and independence. It should therefore be allowed access everywhere, so that it can accompany its handler wherever he or she wants to go.
The dog's harness/cape and badge are meant to prove that its disabled handler is accompanied by a certified assistance dog, that thus should be allowed into public areas such as stores, restaurants, public buildings,...
Read more on our page 'Access rights'.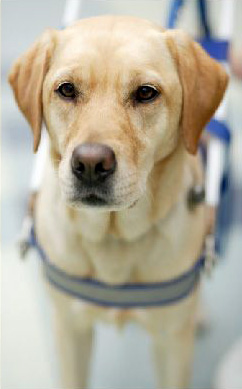 Welcome,
BADF is the abbreviation of 'Belgian Assistance Dog Federation'.
All BADF members joined an international umbrella organisation (ADEu/ADI or IGDF) and meet or intend to meet the accreditation standards set by these organisations. Moreover, members of our federation offer their trained dogs free of charge to their disabled clients.
This website intends to inform you of BADF activities, the different types of assistance dogs (guide dogs, service dogs, hearing dogs, seizure dogs...), and the implementation of legal access rights for assistance dogs and those in training, something the BADF has been advocating for years.
We hope you will find the information you are looking for on these pages. Should you have any other questions, do not hesitate to contact us through our contact page.
Enjoy your visit!